First and Foremost, Happy Birthday to Rod who is a wonder friend, editor, and writer.
Real Products: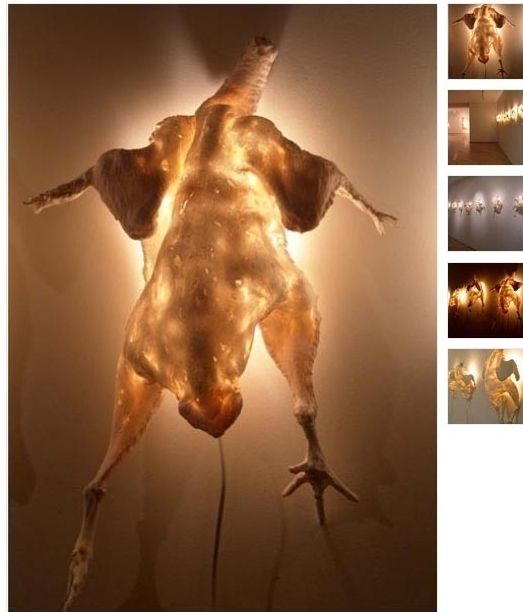 When selecting lighting for your house, it pays to be picky.  Personally, I recommend dead bird lighting.  It's all the rage in one place anyway.  Costing the great price of $350, who wouldn't want one for their home?  Sad to say, they've all been  purchased and are no longer available.
I don't know about you, but every time I see a baby I think wow I should have swiped his/her placenta to make face cream.  Now I don't have to stalk newborns any longer.  I can get my very own honey infused placenta face cream for the great price of International Destination: NZ$24.93
NZ Destination (inc gst): NZ$28.67. That's a bargain for leftover child birth stuff.
Nothing goes together like beer and taxidermy.  You too can have it all.  Now you can get your beer encased in nice taxidermy like a real 'merican for the price of $765.  Scottish firm BrewDog is the "strongest, most expensive and most shocking beer in the world."
"Just 12 bottles were made and the company has already sold out.  They will be shipped out to buyers in the United States, Canada, Italy, Denmark, Scotland and England next week.
The dead animals which were used to create the beers' unusual appearance were four squirrels, seven weasels and a hare.  All were roadkill, James Watt, co-founder of BrewDog, told msnbc.com."
In the News:
GAWKER reports that a Tasmanian man thought he was plagued with ghosts.  He wanted to catch them in action, but instead caught his son in action with his wife (stepmom). While this is the stuff porns are made of, it didn't particularly make the ghost hunter happy.  Gives new meaning to "Ghost Busting."  Read more here…
Speaking of death, did you know you can literally be worked to death?  A Beijing man died after working overtime for a month.  At the tender age of 24, he dropped dead of cardiac arrest at his advertising company.  So now you have an excuse to tell your boss that you can't work overtime.  Read more here…
Video of the Week:
This video was funny.  They had Steven Spielberg and Obama involved.
x,
Becca
Lady or Not… Here I Come!
P.S. Level 279 Candy Crush