Jason writes about his quest for new male friends. Part I of an ongoing series…
So, as a recently divorced dude, I find myself living alone and, well, just plain alone, a lot. I suffer from a serious lack of male friends. Bros. Buds. Dudes. This is a function of 8½ years of marriage with children and everyone you know is married with children. I have nothing against female friendship; in fact, my best friend is a chick. But there are some things you can only share through male bonding:
Discussions of how professional wrestling is a true performance art
The relative degrees of hotness of hot wings, and whether to go with ranch or blue cheese
Whether the DH is the best or worst thing to happen to baseball
Are they supposed to get better each month from Miss January to Miss December?
On that last note, you totally want to go out with other dudes to scope out chicks. If you go out with a female friend, she's going to either be a) offended or b) looking even more than you are. And if she's a b) type, you're going to think it's totally hot how she's into chicks, for a while. But then you'll watch her get the phone number of your hot waitress and just say, damn. Don't even begin to dream of a threesome, buddy. You're not as cool, smart, funny, or hot as she is.
Bros need bros. I don't need a bromance. I just need guys to hang out with. To watch the game with, drink beer with, play poker with. For playing all night video game marathons with. Nothing like a man-cave pervaded by sweat, testosterone, and Red Bull.
That's it. Sports and video games, wings and beer. These are just not chick things. I'm not saying women can't like these things. I've known some women who were huge sports fans. Problem is, women, even when they're fans, are women. They get all holier-than-thou with their opinions, and take it as a personal affront when you disagree. Men just say,
Dude, the '85 Bears were totally better than the '07 Patriots. The Pats lost that Super Bowl.
But, dude, they were undefeated before that. Plus, Jim McMahon or Tom Brady? C'mon.
Woman: OK I don't know what you guys are talking about and I don't care. I like the Cowboys. Go Cowboys!
Dudes are also much more sensitive with each other than women think. It's just not about the things women want them to be sensitive about.
Woman: You should read Fifty Shades of Grey with me. I wish you were more like Christian.
Dude: I remember when Christian Okoye played for the Chiefs. Dude was a beast. Hey, I cried at end of Field of Dreams. Isn't that enough for you?
So, anyway, how does a single, straight dude go about finding other straight dudes to have a totally heterosexual good time together with?
You would think sports bars would be havens for such men. But let's face it. You go to the bar alone, you spot potential bro sitting there. Do you sit on the stool next to him? Awkward. No, hopefully it's a bar with sides, in a semicircle or U-shape, so that you can sit several stools away but still be facing your potential man-crush, though at an angle, because looking straight on would be, still, awkward. Maybe the game is on, you start chit-chatting. You realize a straight man would not write "chit-chatting," but I digress. You talk about how much your team sucks because misery loves company. You both pontificate on how much better they would do if you were in charge, because that's also what men do. We're all effing geniuses, you know. Especially if it involves running a professional sports franchise, or a Hooters.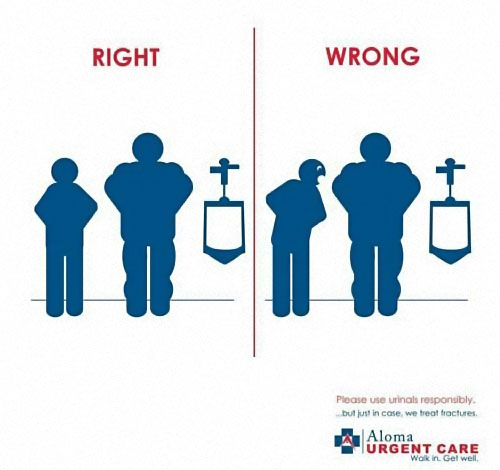 After a beer or four, you really need to go. After all, you don't buy beer, you rent it. But just as you set your glass down and shift your numb butt to get into upward motion, you notice he's doing the same thing, and he's already up on his feet. Crap. Again, unfair differences. Women are always going to the restroom together, practically hand in hand. But men don't want to walk into the restroom at the exact same time if it can be helped. Because, what happens if your new friend is a pee talker?
That's right, we men get the glory of stand-up urinals. Ladies, it's not all it's cut out to be. There you are standing with dude on left and dude on right no more than two feet away, and you are trying to keep your eyes straight ahead, or up to the ceiling, or anything else. And then one of them next to you starts a conversation. Dude, I just want to drain the lizard, wash my hands and get back to my beer and the game. You're cringing on the inside because you know that if he's got enough cajones to casually start talking to you in that setting, he's probably looking down and making mental comparisons of your relative equipment.
Maybe you could go to a bar with a dance floor—commonly referred to as "clubs" I hear. Sure, now what? It's not safe being the Long Ranger on the dance floor. Again, unfairness. A woman is alone on the dance floor, ten men flock to her. If women dance together, a hundred men flock to them. If I tried to dance with another man, I'd get kicked out and re-directed to some bar called "The Thirsty Bear" down the street. And my experience there would go something like this…
To be continued…